African Wildlife: from Dragons to Elephants
Septermber 20, 2007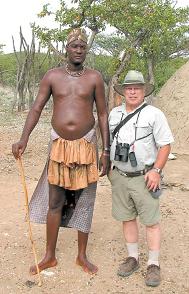 Speaker: Dr. Terry Thormin, the Royal Alberta Museum (retired)
Date & Time: 20 September 2007, 7:00 p.m. to 8:30 p.m.
Location: Athabasca University Governing Council Chambers, 1 University Drive, Athabasca, Alberta.
Synopsis: Terry will take us on a photographic journey of Zambia, Botswana and Namibia, looking at everything from dung beetles to elephants, Victoria Falls, the sand dunes of the Namibian Desert, and more!
Details: For more information download this PDF format poster.
Science Outreach Athabasca - September 26, 2012