Summer 2002 Science Camps
July 9 - Critters of the Creek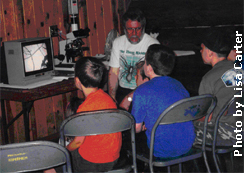 Our very first science camp was a day of exploring the plants, animals and microorganisms of the Muskeg Creek. Children collected specimens in the field and then returned to the temporary lab to examine and learn about the organisms they collected.
July 18 - Gold Panning and Spaghetti Bridges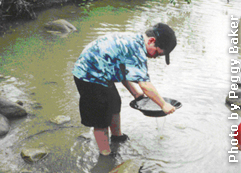 Peggy Baker organized a day of gold panning and building spaghetti bridges. Guided by Bruno Wiskel and Dick Baker, the children tried their hand at panning for gold in the Muskeg Creek. They also discovered that white glue does not hold spaghetti very well!
August 21 - Dinosaur Daze!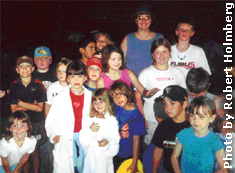 Kirsten Kolind organized and ran "Dinosaur Daze" which introduced children to the art of digging for bones. They also made a dinosaur diorama and played various games. She was assisted by Athabasca Regional Recreation.

August 26-27 - Star Light Star Bright

A starry night sleepover. Children built a scale model of the solar system, visited a portable planetarium, gazed at the stars, told stories around the campfire and looked for UFO's!

Science Outreach Athabasca - September 26, 2012