Summer 2003 Science Camps
July 1, 2003 - Murder in a Minor Key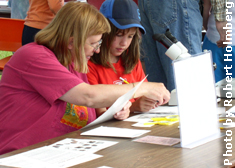 During the Magnificant River Rats Festival 2003 we borrowed the "Murder in a Minor Key" exhibit from the Alberta Science Foundation which allowed children and adults alike to try their hand at solving a murder mystery!
July 7, 2003 - Jr. Paleontology Camp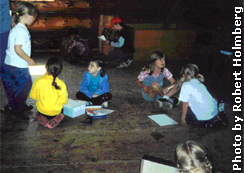 Children were given the chance to become a junior paleontologist for the day! They joined Indiana Kirsten on an adventure in Grassland to learn how to "Walk with the Dinosaurs," enjoyed a scavenger hunt, checked out some real fossils and dinosaur bones, and went through a Science-In-A-Crate exhibit from Science Alberta Foundation.
July 8, 2003 - Crawly Critters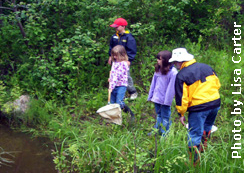 Biologists, Robert Holmberg and Lisa Carter, took children to examine the critters that inhabit Muskeg Creek and the surrounding area. They looked at earthworms and insects with hand lenses and microscopes. There was also a nature scavenger hunt, as well as many other activities provided by the Science in a Crate exhibit courtesy of Science Alberta.
July 9, 2003 - Mad Chemist!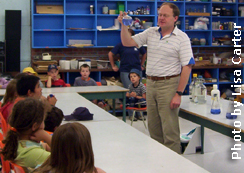 Chemist Dr. Dietmer Kennephol and scientist Dr. Lisa Carter ran a fun filled day of discovering the mysteries of chemistry in the Landing Trail School science lab. Kids could participate in a multitude of fun chemistry experiments and got to finish off the day with a lesson in gold panning. Pennies were hidden in the creek as a substitute for gold, and everyone seemed to have a good time panning and getting dirty!
Science Outreach Athabasca - September 26, 2012