Peter Sawatzky: Caribou Bronze - November 15, 2007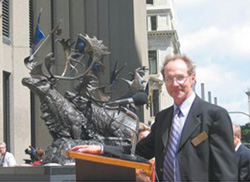 Speaker: Pirkko Karvonen, Karvonen Films
Date & Time: 15 November 2007, 7:00 p.m. to 8:00 p.m.
Location: Athabasca University Governing Council Chambers, 1 University Drive, Athabasca, Alberta.
Synopsis: Pirkko Karvonen debuts her latest film, Peter Sawatzky: Caribou Bronze, which follows Manitoba artist Peter Sawatzky as he completes his latest sculpture.
Admission is free. Snacks will be available after this presentation.
Details: For more information download this PDF format poster.
Science Outreach Athabasca - September 26, 2012