The Mysterious World of the Fungi
September 11, 2008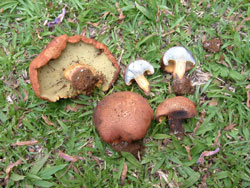 Speaker: Dr. Roland Treu
Date & Time: September 11, 2008, 7:00 PM to 8:30 PM

Location: Athabasca University Governing Council Chambers,
1 University Drive, Athabasca, Alberta.
Admission Free--snack break!
Mushroom Walk
Date & Time: September 13, 2008, 9:00 AM to 12:30 PM.
Location: Muskeg Creek Chalet, walk along Muskeg Creek.
Synopsis: The talk will focus on the diversity of fungi with an emphasis on mushrooms. We will look at how fungi live, grow, reproduce and feed and what roles they play in the natural world. In the second part we explore the relationship of the fungus world with humans: fungi as food, poisonous mushrooms, parasites, magic mushrooms and fungi that changed history. In the final part we will look at how fungi are used in forestry and for the clean-up of contaminated sites.
Mushrooms of Muskeg Creek: If you interested in the identification of mushrooms, join us for a mushroom walk on Saturday morning.
Science Outreach Athabasca - September 27, 2012