Geophysical Observatory Opening
April 14, 2004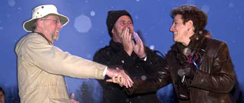 Wet snow conditions hid the Northern Lights from view, but it could not sog the enthusiasm of the more than 60 auroral fans who came out to AU Central, April 14, to watch project partners officially set into action the Athabasca University Geophysical Observatory (AUGO).
Incoming Athabasca University Governing Council Chair, David Burnett, praised the observatory and its project leader, Martin Connors, whose work on the AUGO began long before construction started in October of 2002.  Connors told those who had gathered in Governing Council Chamber about the observatory, and the mystery of the Northern Lights.
Suzanne Corbeil, Vice-President, External Relations of project funding partner Canada Foundation for Innovation, was among the distinguished guests who attended.  Following Martin's presentation, event participants hiked out to the AUGO to take a closer look at aurora-watching instruments like magnetometers, cameras and the network that links them to research facilities, like U of C.
Science Outreach Athabasca - September 27, 2012