TD Great Canadian Shoreline Cleanup
September 23, 2007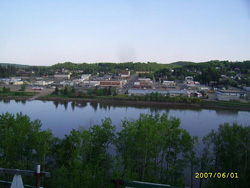 Supported by TD Bank.
Coordinator: Wayne Brehaut, Athabasca University (retired)
Date & Time: 23 September 2007: 1:00 p.m. to 4:00 p.m.
Location: Meet at the Muskeg Creek Chalet, Athabasca, Alberta.
Come help clean up the Athabasca Riverfront! Make it a group or family event!
Last year we cleaned up Muskeg Creek--this year we're continuing on with the Athabasca Riverfront and up the Tawatinaw to the start of the Trans-Canada Trail. Latex gloves and garbage bags provided. Please come dressed for the weather and riverfront walking.
You can "drop in" the day of the cleanup, or pre-register by doing this:
go to The TD Cleanup Site
click on the link "this table" just below the map
find Athabasca and, in the right-hand column ("Map") use the "Click here" link
in the "Participate" bubble, use the "Click here" link
fill in the necessary information in the form and click the "Join now" button
Note: anyone under 19 must have a parent or guardian "sign" the form.
Details: Download this MS Word Poster with a photo of the Girl Guides Muskeg Creek Cleanup for Earth Day 2005!
Post it! Show it to friends, family, co-workers, or other groups and encourage them to attend!
There's also a message board on the TD site where we can communicate once you've registered online.
Science Outreach Athabasca - September 27, 2012