Athabasca River Basin Student Challenge
May 15-31, 2007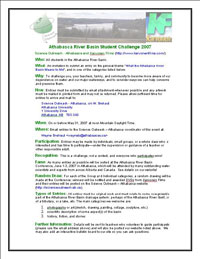 Co-sponsored by Science Outreach - Athabasca and Karvonen Films.
Who: All students in the Athabasca River Basin.
What: Submit an entry on the general theme "What the Athabasca River Basin Means to Me", and in one of the categories listed below.
Why: To challenge you, your teachers, family, and community to become more aware of our dependence on water and our major waterways, and to consider ways we can help conserve and preserve them.
How: Entries must be submitted by email attachment whenever possible and any artwork must be mailed in printed form and may not be returned. Please allow sufficient time for entries to arrive and mail to:
Science Outreach - Athabasca, c/o W. Brehaut
Athabasca University
1 University Drive
Athabasca, AB T9S 3A3
When: On or before May 31, 2007. (Previous advertising stated "May 28", but it's now May 31.)
Where: Email entries to the Science Outreach – Athabasca coordinator of this event at: Wayne Brehaut
Participation: Entries may be made by individuals, small groups, or a whole class who is interested and has time to participate—under the supervision or guidance of a teacher or other responsible adult.
Recognition: This is a challenge, not a contest, and everyone who participates wins!
Fame: As many entries as possible will be posted at the Athabasca River Basin Conference, June 1-3, 2007 in Athabasca, which will be attended by many outstanding water scientists and experts from across Alberta and Canada.
Random Draw: For each of the Group and Individual categories, a random drawing will be made at the Conference: winners will be notified and surprise gifts sent, and their entries will be posted on the Science Outreach – Athabasca website (http://scienceoutreach.ab.ca).
Types of Entries: All entries must be original work and must relate to some recognizable part of the Athabasca River Basin drainage system: perhaps of the Athabasca River itself, or of a tributary, or a lake, etc. The main categories we welcome are:
photography or art (sketch, drawing, painting, collage, sculpture, etc.)
scientific description of some aspect(s) of the basin
history, fiction, and stories
Further Information: Details will be sent to teachers who volunteer to guide participants (please use the email address above) and will also be posted here on the Science Outreach—Athabasca website. We may also add an interactive bulletin board to our site so you can ask questions and make suggestions.
Printable Poster: Click the above image or here for a printable poster of this event!
Science Outreach Athabasca - September 27, 2012