Walk Along Muskeg Creek Canyon - March 5, 2006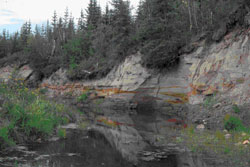 Walk Leader: Graham Griffiths, Biologist
Date: Sunday, March 5th, 2006
Place: Meet at Muskeg Creek Chalet in Athabasca, (at 56 Street and 49 Avenue, near Landing Trail Intermediate School, Athabasca) at 12:45 PM for car-pooling to the site of entry just a few miles south of Athabasca. Maps will be distributed at this time.
Time: 1:00 PM to 4 PM
Note: Please dress appropriately for this long hike and for the weather. Participants must be prepared and fit enough to climb steep trails and walk on slippery ice.
Join Biologist Graham Griffiths as he walks along Muskeg Creek Canyon to discuss the natural features of the stretch of the Muskeg Creek valley upstream of the town boundary as far as the crossing of Range Road 231. Included are Upper Cretaceous bedrock exposures, extensive stands of old-growth white spruce-fir forest, breeding habitat for rare birds, cold swamp and forest habitat for rare and unclarified ferns, and cool spring and streamside habitat for many other rare and local species of plants. These features are of provincial significance.
Graham Griffiths has a Ph. D. from the University of Alberta, and is well known as the author of books, journal articles and reports in the fields of entomology, botany and conservation of natural areas.

Science Outreach Athabasca - September 27, 2012