The Big Bend of the Athabasca: A Wilderness Gem - April 20, 2006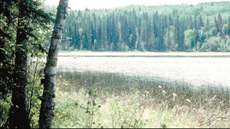 Talk: Graham and Deirdre Griffiths
Date: Thursday, April 20, 2006
Place: Athabasca University,
Governing Council Chambers
Time: 7:00-9:00PM
Join Graham and Deirdre Griffiths to discuss the Crooked Lake district and the resulting report. A fascinating rugged landscape carved by glacial channels is situated in the Big Bend of the Athabasca northwest of the town. The authors surveyed the area around Crooked Lake. A rich array of wildlife species was found, including 309 native vascular plants, at least 35 mammals, 190 nesting and migrant birds, 3 amphibians and 5 fish. Highlights include several undescribed species of ferns associated with old-growth forest, the rarest orchid in Alberta, 44 breeding birds and 12 mammals of concern on account of their rarity and sensitivity to disturbance. Copies of their report will be available for sale after this presentation.
Graham Griffiths has a Ph. D. from the University of Alberta, and is well known as the author of books, journal articles and reports in the fields of entomology, botany and conservation of natural areas. Deirdre Griffiths has a BSc from Queens University, and is an author in her own right. She was chief park naturalist in Elk Island Park and is also wildlife and landscape artist.
Printable Poster with more details (JPG format)!
Science Outreach Athabasca - September 27, 2012