Connecting the Drops: Athabasca River by Canoe
February 19, 2008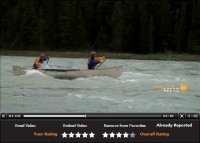 Speaker: Don Van Hout
Date & Time: February 19, 2008, 7:00 p.m.
Location: Athabasca University Governing Council Chambers,                 
1 University Drive, Athabasca, Alberta.
Synopsis: Don will give an illustrated talk on the "Connecting the Drops" canoe trip of summer 2007, from the headwaters of the Athabasca River to Lake Athabasca.
More Details: Please see their website or download this poster.
Science Outreach Athabasca - September 27, 2012